Stairs Brisbane by Stairpro
Stairpro is an innovative custom staircase builder, gaining a reputation for working with composite materials, combining timber, steel, stainless steel and glass to achieve an architecturally functional show piece for your home.
Stairpro is not limited to high end architectural staircases; our main line of staircase building is in traditional timber staircases.
"Working with builders, architects, designers and home owners. Our client's satisfaction is always our first priority."
Stairpro is a family owned business located in Brisbane, Queensland. Our specialties have grown over the years to include the supply and installation of Polished Timber Floors and Timber Joinery. (Doors and Windows)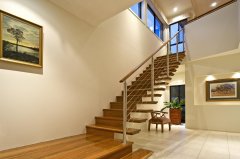 With 30 years in the building industry, our clients get to share that experience when choosing their Staircase, Balustrade, Timber Floor or Timber Joinery. Stairpro prides itself on its quality products, whether it's a simple stair or a grand architectural entrance door. The quality craftsmanship is of the highest order.
Having an interest in all types of staircases, Stairpro has an agreement with The Spiralworks TM,, to be the sole agents for the supply and installation of spiral stairs in Queensland. Stairpro will design and install a spiral staircase to suite your needs.
Thank you for visiting our website and hope you enjoy your experience exploring the possibilities for your pending project.
Staircases
Balustrading
Spirals Stairs
Timber Floors
Timber Joinery