Timber Floors Brisbane
Stairpro - Timber Floors Brisbane, Timber Flooring Brisbane, Floating Timber Brisbane, Wooden Floors Brisbane, Wood Flooring Brisbane, Floorboards Brisbane, Solid Timber Hardwood Floors Brisbane.
Stairpro offers a wide range of Australian native hardwood timber species, in several gradings, to suit your lifestyle and budget.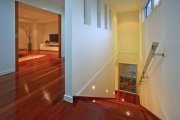 Integration of trades is where Stairpro® excels, resulting a superior finish. With careful consideration of the details, Stairpro® will ensure the staircase, balustrade, timber floor and door sills of the entry and bi-fold patio doors have a seamless flow.
Stairpro® is renowned for exceeding its customer's expectations with outstanding service and sales support. Builders and homeowners alike desire the best of materials and want it installed in the best possible way. The concerns of such a large investment, as that of a timber floor, are put at ease knowing they have engaged a reputable and professional flooring business.
Stairpro's® installation crew consists of several expert building professionals. Their installation procedures are of the highest standard and will install your floor with the best materials available. The utmost care and courtesy insuring a clean, happy, safe and professional environment, while leaving no detail over-looked.
Working with builders, architects, designers and home owners.
"Our client's satisfaction is always our first priority."